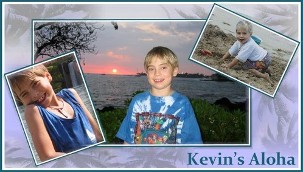 Kevin Matthew Eadie was born on Dec. 24, 1993. What a beautiful & perfect gift at Christmas! He was destined to be great!! As a baby & toddler, he was energetic, inquisitive, funny, and very loving. Unfortunately, at age 3, Kevin was diagnosed with a rare terminal illness called Niemann Pick Type C. He looked like a picture perfect child. It was his parents greatest heartbreak when told what would happen to Kevin, that there was no cure, and to take him home to "enjoy your time". In 1997, Kevin's family began our quest to do whatever we could to fund research to find a cure and save Kevin and these children afflicted with this deadly & cruel disease.
Kevin was a beautiful little boy who LOVED life, loved his family & friends, loved baseball and loved the Hawaiian Islands. He had a fun-loving personality with an infectious giggle and smile while also having a gentle, & loving disposition.
Kevin touched the lives of so many people with his amazing personality, his positive outlook, his courage and his laughter. It was said by many people that Kevin was an angel. Kevin was able to run, play little league baseball, and chatter endlessly with ease. By the time Kevin was 12, he no longer could talk, eat, walk, control his muscle movements, and struggled to breathe. At that time, he spent many days agonizing with muscle pain, seizures, painful medical procedures, and several surgeries. He was hospitalized over 6 months during a 2 1/2 year period.
Through his pain and all his suffering, Kevin's love of life and determination continued as he fought a courageous and heroic battle against this cruel disease. He exemplified the courage of a true Champion (as acknowledged personally to Kevin by Baseball Great, Hank Aaron). Sadly, on Nov. 12, 2008, Kevin lost his life to Niemann Pick Type C.
Kevin dreamed of being a major league baseball player when he was very young. While battling his illness, he was a dedicated Batboy for the Peninsula Pilots in Hampton, Virginia for 7 seasons. He loved his "job". However, his baseball dreams changed to hopes of relief from pain and being able to grow up. Kevin's love of life, and the gift he gave to those who knew him, lives on in our hearts and in our hope to find a cure.
Kevin left an indelible mark of love on our heart and a tremendous legacy. He is now our 'Angel in the Dugout'. Our Angel Kevin inspires us to continue the fight against this deadly life-robbing disease to help other children worldwide who are afflicted with Niemann Pick Type C. These children are struggling daily to survive the ravages of this disease while helpless parents hope each day a cure will be found soon for their loved one.
We hope you will decide to help Kevin's friends, and you too will join our quest to save these children from their suffering so they can grow up & realize their dreams. Kevin's love and legacy inspires us; finding the cure remains our quest.
Aloha Angel Kevin.... We love you & miss you.
'Angel Eyes' by Tamara Walker

°°°°°°°°°°°°°°°°°°°°