We hope you will join Kevin's friends & be a Life-Saver !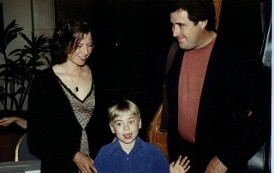 Kevin with Amy Grant & Vince Gill
Singer/Songwriter Amy Grant has been a long-time supporter of the Ara Parseghian Medical Research Foundation. Amy & her husband, Singer/Songwriter Vince Gill have given their time & talents to raise funds for NPC research. 'Beautiful' was written about Cindy & Michael Parseghian's three children who suffered from NPC. Their beautiful children and the Parseghian Family fought heroically against NPC. It was written and performed by Amy Grant. "Thank you Amy & Vince for embracing our mission to find a cure."
'Beautiful' by Amy Grant (w/Vince Gill)

°°°°°°°°°°°°°°°°°°°°°°°°°°°°°°°°°°°

Kevin & Glen
♥This page is dedicated to Glen Shepherd,Former Executive Director of the Ara Parseghian Medical Research Foundation. "Glen, thank you for all your hard work & dedication to all the NPC families. Your family's love & support for Kevin & his Mom was ... beautiful. We are forever grateful & now connected - like family."