'ANGEL in the DUGOUT'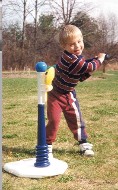 Kevin was just 3 years old when he hit his first baseball on a T-ball stand. From that moment on, he fell in love with baseball and decided he wanted to be a major league baseball player. However... one way or the other it was all ... 'For the Love of the Game' * & Kevin's destiny.
Kevin first played T-ball since he was not able to play 'Little League" until he was 5. He finally got his chance for Little League at 41/2. He was destined for baseball! He couldn't get enough!! One day at his Little League practice, Kevin's Mom corrected Kevin's batting stance. Kevin's Coach told her that Kevin was a left-handed batter and not too many baseball greats batted left-handed. So Little Leaguer Kevin batted left-handed and loved every minute of it! When Kevin wasn't playing baseball ... he was watching baseball ! He watched Major League Baseball when he wasn't even old enough to understand the game... at least that's what his Mom thought. She was wrong! Kevin took it all in and somehow understood the game immediately. He watched baseball movies over & over again... the 'Field of Dreams', 'For the Love of the Game', & he loved watching 'Angels in the Outfield & 'Angels in the Infield'. As long it was about baseball, he was in & it was his only criteria! Kevin watched 'Angels in the Outfield/Infield' obsessively belting out infectious giggles that would make us all laugh... at Kevin & the movie! We couldn't decide which was funnier... Kevin's laughter and obvious enjoyment at the movie... or the movie itself! Waving our arms slowly up and down saying... "Believe"... became a household gesture.
Unfortunately around age 6, Kevin's illness began to progress. Kevin began having difficulty keeping his balance causing him to stumble and fall. This greatly affected our little leaguer's baseball and athletic abilities. Yet, even with his athletic deficiencies, he kept his positive attitude & did not give up on himself or his love of baseball.
In 2001, Kevin personally asked Singer/Songwriter Michael Bolton if he could be his Batboy for the 'Bolton Bombers'. Kevin's genuine love for others and his sweetness... could melt anyone's heart...so of course, Michael Bolton was "honored' to have Kevin as his Batboy and part of the Bolton Bombers".
In 2002, Kevin met the Owner of the Peninsula Pilots, Henry Morgan,

when Kevin's Mom contacted the management to sell tickets to their games as a fundraiser for the Kevin Eadie Fund which supported Niemann Pick C research. From the moment Kevin met Henry... well...it was meant to be. It was a "major" camaraderie. Kevin smiled at Henry and said, "Hey ... you want to go play catch?" Well, as Henry has said (although he didn't coin the phrase) ... "He had me at ... "Hello". Immediately, Kevin had hopes of being the Peninsula Pilots Batboy. Henry instantly realized Kevin's love for baseball and how that love greatly overshadowed any physical inadequacies. Although Kevin didn't meet the age criteria of 13 for being a Peninsula Pilots Batboy, Henry's heart was held hostage by this "Angel" so he conceded. Henry appointed Kevin at age 8 the 'Batboy' for the 2002 Peninsula Pilots summer season. However, Henry told Kevin that his "job" as Batboy wasn't without conditions. First, he had to have approval from his Mom. Second, he had to always do his best at school. Thirdly, Kevin had to agree to just $1.00 a game with any raises to be determined by Kevin's level of dedication and participation. Kevin was SO excited! He immediately agreed to all of Henry's terms. With a nod of approval from Mom & a gentleman's handshake, Kevin became the youngest Peninsula Pilots Batboy. That day in late Spring, as Kevin was leaving the Pilots stadium displaying a grin from ear to ear, Kevin told Henry he loved being their batboy so much. Kevin then said to Henry with a giggle, ... "I'd do it for free!" From that moment on, Kevin did love his "job" as the Peninsula Pilots 'Batboy'. Once Kevin's school session ended, he didn't miss a home game all summer. Henry and Hank realized immediately what a special teammate they had signed up! Kevin would stumble and fall running after those bats but it didn't deter him from his task nor break his spirit. As a result, in the Summer of 2002, the Kevin Eadie Night evolved into an annual fundraiser to save Kevin's life from this dreadful illness. It was obvious that Kevin was an angel with his laughter, smile, and loving grace. All of his teammates looked after him on & off the field. He was like their little brother. Kevin would hang out before the game in the Pilots 'clubhouse' with his beloved teammates. Once the game was underway, Kevin would give them pep talks in the dugout when a player struck out or didn't make it to the bases. On a few occasions, Kevin would even kindly and sweetly remind the players to clean up their language just a little "cause it's just not a good thing to say bad words". Kevin would then give the player a big smile and a high five to let his teammate know how much he cared about him... and then sometimes give a big hug. However, once the play resumed on the field... Kevin was again at his 'Batboy' post... serious... with fierce dedication and determination. The fans of the Peninsula Pilots began to see Kevin's angelic personality and they too were Kevin's fans - occasionally asking for autographs or to take his picture. Even Umpires and opposing teams would gasp as Kevin would fall on the field while in fast play to capture that bat for his beloved teammate; however, their fears would subside when Kevin would get up with a smile never wavering for a moment to complete his "job" that he loved. He would always ... "Believe". Near the end of that memorable season, Kevin begged Peninsula Pilots, General Manager, Hank, if he could go with the Team to an "Away" game. Hank agreed. On that long bus ride with Kevin enjoying every mile being with his Team, Kevin asked Hank if he could be the 'Batboy' again next year. With a genuine & loving smile, Hank replied, "Of course Kevin. It wouldn't be the same without you". At the close of a that 2002 season, Kevin had gained beloved teammates, many fans, and a management group that became 'family". Kevin had earned his spot as the dedicated & youngest 'Batboy' with the Peninsula Pilots. Kevin would have his own 'Pilots' uniform in 2003. It was then believed by many that Kevin was an "Angel in the Dugout".
In Summer 2003, Kevin was once again at his 'Batboy' post with even more dedication but also with more physical difficulties than the previous year. It was apparent to the Peninsula Pilots and to Kevin's fans that Niemann-Pick C (NPC) was attacking Kevin's little body. But with a vengeance, Kevin held his dedication for his Batboy "job" and love for his Team. Despite his frequent falls and slurred speech when Kevin would utter chants to the opposing team or give his teammates a pep talk, he'd hit us all with a million dollar smile which would lift our heart and break it at the same time. Kevin was helping us all to be better people and "Believe". Once again, on Kevin Eadie Night, the stadium was full of Kevin fans who were there to honor our 'Batboy' and raise funds to find a cure for our 'Angel in the Dugout'. That night - as in many more to come, there wasn't a dry eye in the stadium, as Kevin was given the award of MVP. The night ended with tremendous fireworks and chants of "Kevin", "Kevin", "Kevin".
By Summer 2004, Kevin was a regular integral part of the Peninsula Pilots. His fan's love for him increased but so did Kevin's symptoms as NPC progressed. On Kevin Eadie Night, Kevin took the field at home plate & to a skit with a song by Kenny Rogers. Kevin hit a home run out into a dark field. At the crack of the bat... into the outfield ... the fireworks started up! Once again, not a dry eye in the stadium and with renewed conviction, funds were raised to help save our 'Angel in the "Dugout'.
Summer 2005, Kevin was at his 'Batboy' post with his big smile but also with a big walker to assist him with his walking. Even with his slow pace of walking after those bats and balls with a walker, the game would halt momentarily so Kevin would be able to do the "job" that he loved and for the Team & game that he loved. All of his fans would get a Kevin 'thumbs up" and his big smile. Kevin's love of baseball and dedication as Batboy for the Peninsula Pilots grew in popularity. A reporter from the Washington Post attended the 2005 Kevin Eadie Night game at the Peninsula Pilots to write a story about Kevin, his illness, his love for baseball & his Team. We were all in the dark as to how the reporter would tell the story. We waited in anticipation and with hopes that his story would make it into the newspaper to raise awareness of our special Batboy and the need to cure his disease. On August 26, 2005, Kevin's story was printed and titled, 'The Champ'. Many people already touched by Kevin's goodness and courage had spread the word. Kevin was being seen by an alternative medicine doctor since modern western medicine held no treatment or cure. By means of this doctor, Kevin was personally invited by the owner of the Chicago White Sox to attend the 2005 World Series for not just one game but for two! Even baseball greats and their owners were touched and humbled by our "Angel in the Dugout'.
By Summer 2006, Kevin was again at his 'Batboy' post, although unable to attend every game due to hospitalizations and being in a wheelchair. Kevin's voice had fallen silent as he had lost his ability to speak earlier that year. Although Kevin could not talk or walk, everyone could still see Kevin's love for his team and for the game. Baseball Great... Hank Aaron wrote a personal letter to Kevin with heartfelt sincerity.. Hank called Kevin a true "Champion'. And "Champion" ... Kevin was!
By the Summer of 2007, Kevin had suffered from many seizures, and lost his ability talk, walk, eat, and move his limbs. Despite numerous hospitalizations and many physical losses, our 'Angel in the Dugout' once again managed to make it to a few of the games of his beloved team and do his "job" the best that he could. Kevin would manage his look of love for his fans, his team, and the game he loved. Giving a thumbs up or a leg up to let everyone know that he was still their batboy and loving every moment of it. We were all humbled. The Kevin Eadie Night was heartfelt and once again, eyes were filled with tears of emotion for their teammate and our Batboy.
By the Summer of 2008, Kevin's appearance in the dugout of the Peninsula Pilots game was rare; however, his visits to the hospital were very frequent. On Kevin Eadie Night, July 26, 2008, Kevin's beloved "Boss" - Henry, his beloved "Coach" - Hank, and his beloved -"Peninsula Pilots" - all wondered if Kevin would make it to his special night as Kevin had just returned home from the hospital. In full uniform, Kevin arrived at the game, and resumed his post as 'Batboy in his wheelchair but with that same enthusiasm of once again being their 'Batboy" and with his beloved team. Although Kevin could no longer chant out to the opposing team, give a pep talk to his team, give us a thumbs up or not even his leg up which he had lost the ability a few months before... we could all see the love and dedication in his eyes. The fans all cheered for our beloved Batboy. At the end of the game and prior to the tradition of fireworks, Kevin's Team of past and present players, escorted him around the bases while 'Go the Distance' sung by Kevin's friend and hero, Michael Bolton, blasted over the loud stadium speakers. As Kevin rounded towards home plate halfway from third, our beloved 'Angel in the Dugout' gave all his teammates and fans his famous leg up !! Everyone in the stadium cheered, cried, and raised out of their seats for our 'Batboy'. It was as exciting and electrifying as any World Series if not greater as Kevin had given us all a gift that we would carry with us for all our lives. We had all been blessed with a piece of Heaven ... at a baseball game by a young little boy named Kevin ... "A Champion" ... and an 'Angel' who hung out in the dugout !
That was Kevin's last appearance at the Peninsula Pilots and his last season. Sadly, Kevin passed away three months later on Nov. 12, 2008.
The 2009 Summer Season came for the Peninsula Pilots but not for Kevin. Kevin's infectious smiles, his giggles, thumbs up, and those occasional stumbles were no longer visible at the games. He was greatly missed but the Kevin Eadie Night would not be missed. On Kevin Eadie Night, 14 white doves to signify Kevin's years he lived, were released in loving memory of our beloved Batboy. The doves all banked off in flight towards the outfield with the exception of dove #8 which flew towards the dugout and perched on top until the beginning of the game. All the doves flew off into the distance not to be seen except Dove #8. Dove # 8 flew later from the top of the dugout into the outfield and perched on top of the highest bill board above the 1st letter of the 1st sentence which began with an "E". There the dove perched and remained throughout the game, throughout the videos of Kevin, throughout the song 'Halo' by Beyonce' at the end of the game, and through the entire fireworks. We all felt part of a miracle. And... we all knew that Kevin's spirit was with us and would always remain.
The Kevin Eadie Night at the Peninsula Pilots is a tradition that remains like his spirit. It is in Kevin's legacy it remains. It is a tradition of love and in hopes of finding a cure. Kevin Eadie Night 2012 gave us a double rainbow over the entire outfield as the game was beginning to start after a rain delay. From Kevin's love and spirit, we are all better people and we honor his legacy.... our 'Angel in the Dugout'. Kevin is now "safe" and playing with the "Big Leagues".
We "Believe" in our mission to find a cure.
"Keep Swinging!" "We miss you Kevin." "It isn't the same without you!"
*(Kevin was named after Kevin Costner! He was invited by Kevin Costner to the Iowa field where the 'Field of Dreams' was filmed; Kevin was very sick in the hospital & unable to go.)
'A little boy with a field of dreams' by Patti McKenzie, Norge Times, April 6, 2007
excerpts at "WHAT ARE THE TWO MAIN INGREDIENTS IN A GRILLED CHEESE SANDWICH?
http://thehomelessinwilliamsburg.blogspot.com/